Sea freight
Our sea freight service offers you the opportunity to ship your cargo by boat (minimum charge of 1m3) *. We offer a weekly consolidation from Shanghai, Ningbo, and Shenzhen for LCL shipments. Of course, we can also arrange FCL or arrange shipments through other ports.
Sea freight calculator
Don't take our word for it, calculate it yourself!

If you want to book a shipment from other ports, you can contact us by sending an email to seafreight@import4you.nl
Number of HS codes
Total number of boxes
Dimensions of 1 box
CBM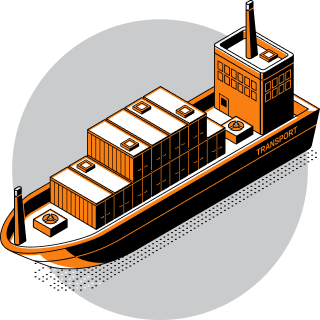 Seafreight
From
Shanghai
To
Netherlands
Costs
Customs clearance fees
€ 30,00
1. Registration
You register the products that you want to be shipped for a shipment. You can do this easily by creating an account and placing a booking in the Import4You dashboard.
2. Collecting
Once you have placed the booking, your supplier needs to send the goods to our warehouse in China*. In case of EXW we can also arrange pickup of the cargo of course. You will receive all instructions immediately by mail once you placed the booking.
3. Shipment
Once all goods are collected, they are shipped by boat to the destination country.
4. Clearance
Goods first have to be cleared through customs, a complicated administrative process. We take care of the entire customs clearance process, so you can focus on scaling your business.
5. Delivering
You will receive your products as soon as possible. The average lead time is around 1 week after we received the goods in our warehouse in China, depending on the market situation.
6. Payments
You will receive our invoice as soon as the goods will be delivered, you have 7 days' time to pay our invoice.